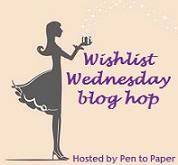 Wishlist Wednesday is a book blog hop where we will post about one book per week that has been on our wishlist for some time, or just added (it's entirely up to you), that we can't wait to get off the wishlist and onto our wonderful shelves.
So what do you need to do to join in?
Follow Pen to Paper as host of the meme.
Please consider adding the blog hop button to your blog somewhere, so others can find it easily and join in too! Help spread the word! The code will be at the bottom of the post under the linky.
Pick a book from your wishlist that you are dying to get to put on your shelves.
Do a post telling your readers about the book and why it's on your wishlist.
Add your blog to the linky at the bottom of this post.
Put a link back to Pen to Paper somewhere in your post.
Visit the other blogs and enjoy!
Finally, the highly anticipated follow-up to the New York Times bestseller Beautiful Disaster. Can you love someone too much?
Travis Maddox learned two things from his mother before she died: Love hard. Fight harder.
In Walking Disaster, the life of Travis is full of fast women, underground gambling, and violence. But just when he thinks he is invincible, Abby Abernathy brings him to his knees.
Every story has two sides. In Beautiful Disaster, Abby had her say. Now it's time to see the story through Travis's eyes.
---

To play along, just answer the following three (3) questions…
• What are you currently reading?
• What did you recently finish reading?
• What do you think you'll read next?
Currently reading:
Recently finished:
Reading next: