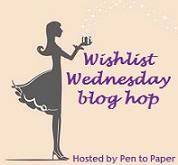 Wishlist Wednesday is a book blog hop where we will post about one book per week that has been on our wishlist for some time, or just added (it's entirely up to you), that we can't wait to get off the wishlist and onto our wonderful shelves.
So what do you need to do to join in?
Follow Pen to Paper as host of the meme.
Please consider adding the blog hop button to your blog somewhere, so others can find it easily and join in too! Help spread the word! The code will be at the bottom of the post under the linky.
Pick a book from your wishlist that you are dying to get to put on your shelves.
Do a post telling your readers about the book and why it's on your wishlist.
Add your blog to the linky at the bottom of this post.
Put a link back to Pen to Paper somewhere in your post.
Visit the other blogs and enjoy!
(Clicking on the picture of the book will take you to its Goodreads page.)
From Goodreads:
This brand-new mystery series spins a yarn about knitters and murder in a quaint seaside village.
Not long after Isabel ?Izzy? Chambers opens up a knitting shop in the sleepy fishing town of Sea Harbor, Massachusetts, a diverse group of women begins congregating each week to form the Seaside Knitters.
Izzy raises some eyebrows when she rents the apartment above her shop to Angie Archer, whose reputation for loose behavior and a quick temper has made her unpopular with many locals. But could any of them have wanted her dead? Angie's body is discovered drowned in the harbor, her long red hair tangled like seaweed in a lobster trap.
An official investigation rules the death an accident. There are speculations of too many whiskey sours, a slippery wharf, a dark night? But Izzy and the Seaside Knitters smell something fishy. When several strange incidents occur above the shop, the women decide to take matters into their own hands. But before long, their small-town sense of security is frayed, and the threat of more violence hangs over this tightly knit community.