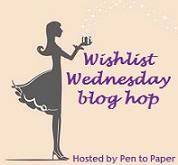 Wishlist Wednesday is a book blog hop where we will post about one book per week that has been on our wishlist for some time, or just added (it's entirely up to you), that we can't wait to get off the wishlist and onto our wonderful shelves.
So what do you need to do to join in?
Follow Pen to Paper as host of the meme.
Please consider adding the blog hop button to your blog somewhere, so others can find it easily and join in too! Help spread the word! The code will be at the bottom of the post under the linky.
Pick a book from your wishlist that you are dying to get to put on your shelves.
Do a post telling your readers about the book and why it's on your wishlist.
Add your blog to the linky at the bottom of this post.
Put a link back to Pen to Paper somewhere in your post.
Visit the other blogs and enjoy!
(Clicking on the picture of the book will take you to its Goodreads page.)
From Goodreads:
Maybe the best thing that ever happened to Kristan "Stan" Connor was losing her high-stress public relations job. Now there's plenty of time to spend in her sleepy new Connecticut town working on her dream: baking healthy, organic pet treats!
Before long the neighborhood dogs are escaping their yards to show up at Stan's doorstep, begging for the kinds of special homemade treats her Maine coon cat Nutty loves so much. And Stan's pet-loving neighbors are thrilled with the new organic options available to their furry family members. But not everyone loves Stan and her newfangled organic ways…
It seems Carole Morganwick, the town vet, is from the old school of pet care. But when Stan swallows her pride and brings a very unwilling Nutty in for a checkup, she not only finds Carole dead under a pile of kibble. . .but also that she's in the dog house as the prime suspect! Finding the real killer and clearing her name will require some seriously surreptitious sniffing around. . .and hopefully, curiosity won't kill this innocent cat!
Includes Gourmet Pet Food Recipes!