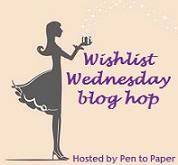 Wishlist Wednesday is a book blog hop where we will post about one book per week that has been on our wishlist for some time, or just added (it's entirely up to you), that we can't wait to get off the wishlist and onto our wonderful shelves.
So what do you need to do to join in?
Follow Pen to Paper as host of the meme.
Please consider adding the blog hop button to your blog somewhere, so others can find it easily and join in too! Help spread the word! The code will be at the bottom of the post under the linky.
Pick a book from your wishlist that you are dying to get to put on your shelves.
Do a post telling your readers about the book and why it's on your wishlist.
Add your blog to the linky at the bottom of this post.
Put a link back to Pen to Paper somewhere in your post.
Visit the other blogs and enjoy!
(Clicking on the picture of the book will take you to its Goodreads page.)
From Goodreads:
The dark secret Kayden has kept hidden for years is out. Worse, he's facing charges for battery. The only way he stands a chance against the charges is if Callie speaks up, something he'll never ask her to do.
Callie knows Kayden is going back to his dark place and desperately wants to save him. But saving him means admitting her secrets aloud. Callie and Kayden are stronger than they think, especially when they're together. Together they move forward, face their demons, and finally start to heal from their traumatic pasts.